We are proud to announce that Leesa has officially been re-certified as a B Corporation, increasing our score 18 points to 111.
The B Corp Certification is the benchmark for companies that are driven as much by their profits as by their purpose and positive impact on their communities.
In 2016, we kicked off our certification with a score of 94. Now, two years (and 1,000s of nights of better rest) later, we are proud to announce our new score: 111. Some major areas of improvement in our score include an 81% increase in the Environment category and a 57% increase in Governance.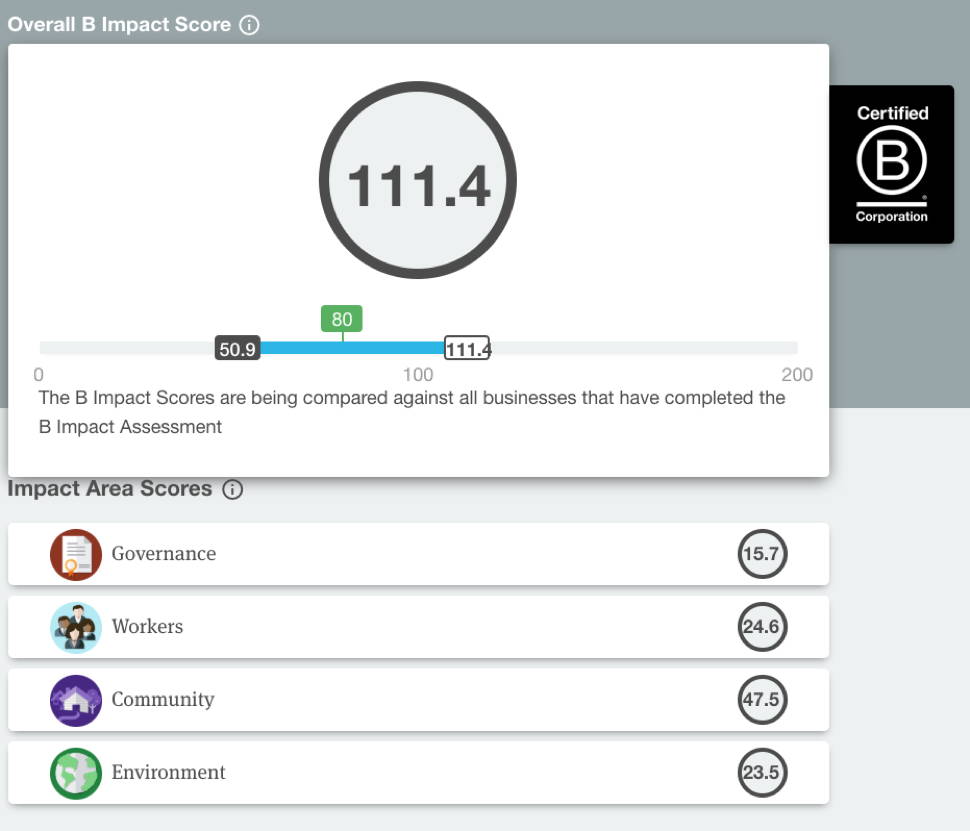 What is a B Corp?

Certified B Corporations are companies that reach the highest standards of social and environmental responsibility. While Organic and Fair Trade Certifications target specific areas of a company, the B Corp certification sheds light on the entire ethos of a business. Every day, B Corps are redefining what success looks like – for the environment, their workers and their communities.
More than 50,000 companies have taken the B Corp assessment. The average score? 55. To become a certified B Corp, a company must get at least 80 points. That means we scored 31 points over the minimum requirement. (We're pretty proud of our score, if you can't tell.) The B Corp movement is now over 2,500 companies strong, across 150 industries and 60 countries, with one goal: to leave the world a bit better than we found it.
Why is Leesa a B Corp?

Leesa is proud to be "Born B," meaning our social mission has been a part of our DNA since we started the business in 2015. When our two co-founders, David Wolfe and Jamie Diamonstein, set out to build the Leesa and improve people's sleep, they created their One-Ten program where we donate one mattress for every 10 we sell. They also started One-Earth, where we plant one tree for every mattress sold. Who would have guessed that three years later, Leesa would have donated more than 32,000 mattresses (that's 16 million nights of better rest!) and committed to planting 1,000,000 trees by 2025.
While our purpose has been a part of our business model from day one, we see this recertification as a renewal our promise to our mission—to provide deeper rest for every body.
The recertifcation process takes about three months. Here are a few of the reasons why we love taking the B Corp assessment:
It puts our mission at the heart of what we do. Being a B Corp is more than just a certification, it legally binds us to our commitment to our giving partners, our customers, our employees and the world.
We are in good company. We are proud to be a certified B Corp, because it associates us with brands we admire like Seventh Generation, Ben & Jerry's, Patagonia and Athleta—all are fellow B Corps.
It's proof that we not only talk the talk, we walk it, too. We want to show our customers that our social commitment runs deep. The B Impact Assessment gives the public a transparent view of who we are and what we stand for as a company.
It encourages us to continue improving. We are proud of everything we have accomplished, but always strive to do better. The B Impact Assessment gives us the opportunity to see where we can improve, and gives us the roadmap to being even better for our community, our team and the environment.
Below are some of our recertification highlights. These are some of the achievements we are most proud of from this certification round (achievements range from 2016-2018).
We continue to provide places for people to rest their head and heart. We have donated over 25,000 mattresses since our last certification. (That's 33,000 total!)
Leesa provides profit units for all employees. As a company, we are all working toward one goal and we want to share our success with the team that made works hard to make it happen.
We provide wellness benefits for employees, including personal trainers who come to the in-office gym every day.
We have designated breastfeeding and napping rooms for employees.
We have build relationships with our suppliers for better understanding and transparency.

Our Sapira mattresses have 95% recycled springs.
We use recycled materials in our packaging.

Our headquarters building runs on renewable energy.
We decreased our shipping distance from manufacture to our customer's doorstep.
At Leesa, we are proud to be a company with heart and soul and will continue to strive toward making the world a little bit better than we found it. Want to learn more? (We don't blame you!) Read more about our social impact programs. >>