Finding the right color palette for your bedroom can be tough. You want colors that feel calming, relaxing and rejuvenating to help you get your best rest.
Sherwin Williams 2020 Color of the Year, Naval, is a rich, dark blue. It's the perfect color for your bedroom, whether you paint the whole room, an accent wall or use it in decor, to create a calm, relaxing oasis that also makes a statement in the bedroom.
According to Sherwin Williams, Naval is a "deep shade [that] evokes a prominent sense of confidence that fuses timeless color with a fresh mix of natural materials and textures that bring navy blue into a new era."
No matter your preferred bedroom style, you can incorporate Naval to bring a calming, confident feel to your space.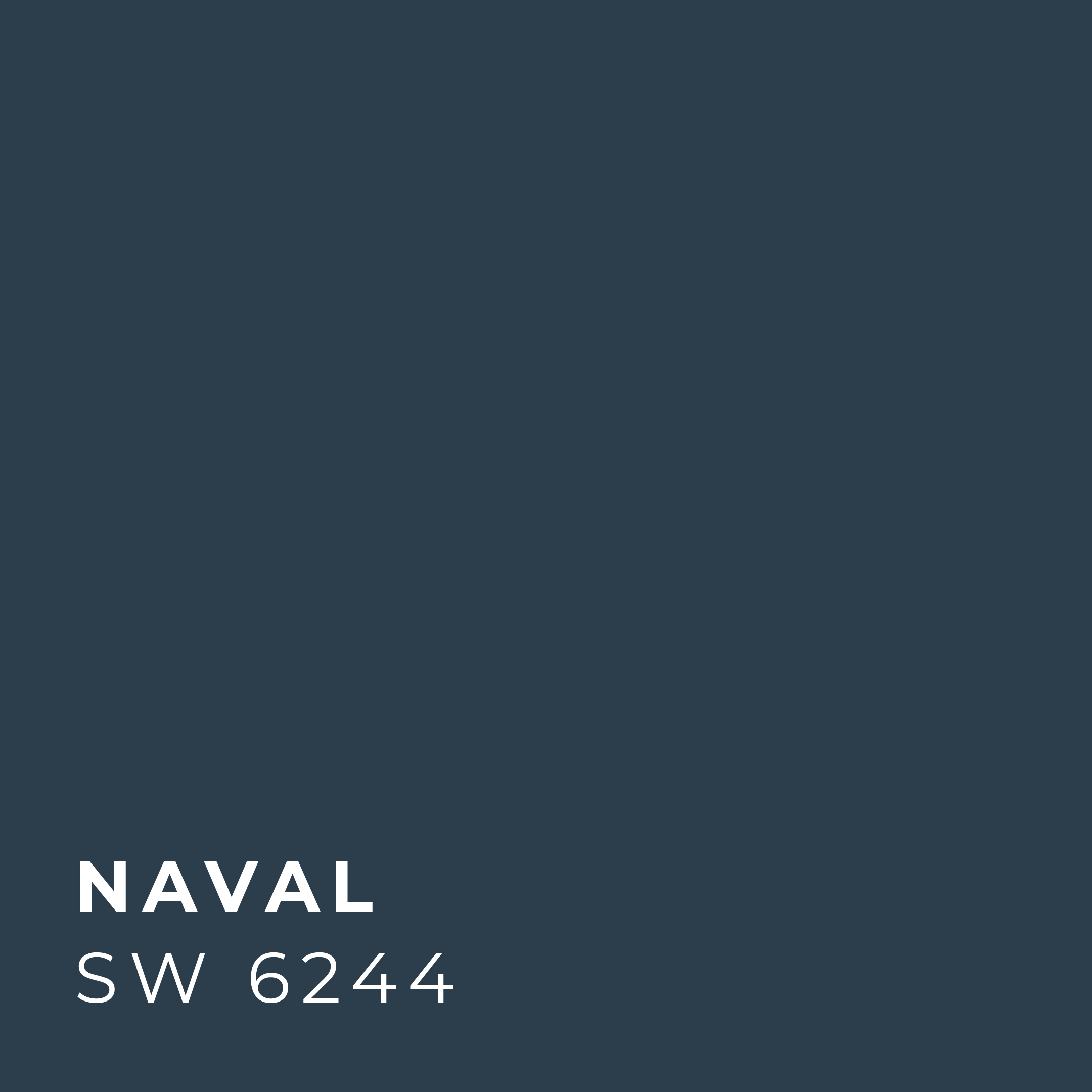 "How do you bring the a navy color to life throughout a space without it being overwhelming?" asks HGTV designer and Leesa design expert Leanne Ford. "Use it with bright white. Play with where you draw the line to bring in more light."
Coastal Eclectic Bedroom Style
What is coastal eclectic style?
A coastal eclectic bedroom can encompass many different styles while featuring hints of the ocean or coast, which is where it gets its name. This style can include a variety of materials, including wicker and shell, with a lighter color palette of—you guessed it—blues and neutrals, to get the feel of the coast.
Coastal eclectic gives a space the feel of an upscale resort, like you're on a relaxing getaway. At the same time, it's important that the style is not overdone, or can feel cheesy. The best coastal eclectic style is subtle, ranging from bigger pieces, like large pieces of art or a wicker bed frame, to small knick-knacks and patterns like striped throw pillows or a sailboat for the shelf.
When asked how she would complement a coastal eclectic space with touches that emulate the calm, grounding environment, Leanne Ford recommends to keep it natural.
"Bring in texture with brick, natural wood elements and soft easy furniture."

Coastal eclectic + Naval
Coastal eclectic style lends itself to 2020's color of the year, Naval, because the style's color palette includes blues and cool, coastal tones. Here are our favorite ways to create a Naval-inspired room without over-blueing it:
1. Include nautical, Naval elements. Of course, a space is going to feel more coastal with coastal decor. Try wall art featuring corals, anchors, birds and sea animals, and shelf decor, like shells, anchors or boats. Choose items that are a mixture of colors and patterns and bring Naval in to add to the coastal eclectic feel. If you're feeling really bold, paint the room or an accent wall Naval. It will have a calming effect and enhance your coastal eclectic style.
2. Add wicker and other natural materials. What about a wicker chair or ceiling fan? You could also get a few wicker (or another natural material) baskets for storage and find wall decor to bring in a natural element or two.
3. Choose the right statement piece(s). Find something big and bold to hang on a wall or use as your focal point in the room. That could be anything from a fun, patterned area rug or a large piece of art to hang over the bed. A statement piece is a good opportunity to not only incorporate Naval, but also introduce another color or two.
4. Find the perfect pillows. Switch out your pillows for shades of blue and creams. This is a great place to introduce or punch up the Naval in your room without overdoing it. Try a Naval stipe or pattern and mix with other neutral pillows for a staycation at home.
Rustic Farmhouse Bedroom Style
If you've ever watched HGTV, you've seen rustic farmhouse in action. This really popular decorating style is warm and cozy, with an overall relaxing and charming feel. If overly done, it can feel cheesy or antiquated, but with the right mixture of old and new elements, rustic farmhouse creates a home-y feel with a lot of character.
The rustic farmhouse style spans a variety of color palettes, ranging from clean, bright, white and neutrals to deeper, richer colors (and even a mix somewhere in the middle). It's really up to your personal taste.

Rustic Farmhouse + Naval
Whether you want to bring in Naval as the main color in your rustic farmhouse style bedroom or just want to include a few accent pieces, here are some of our favorite ways to Naval-up your space:
1. Find the right decor. Rustic farmhouse decor can include a wide variety of items, which makes the style easily customizable to your personal style. Try including different materials in whatever decor you choose, like wood, lace, tweed, tin and galvanized steel for a farmhouse feel. If you like the really western look, try hanging a few different hats as wall decor. (Hats can enhance a BoHo style, too!) Any Naval decor will fit right in with a rustic farmhouse space, too.
2. Find a cozy area rug. Creating a cozy bedroom is key when it comes to rustic farmhouse style. Your rug can be the focal point of your room or just an accent, depending on the pattern and color you choose. A dark, Naval rug, solid or patterned, will enhance your cozy feel, while a white or neutral rug will give you a little more clean, polished look.
3. Add greenery. Plants instantly make your room feel more like home (it brings hygge to your space!). Add a few, but don't go overboard. Too many plants can look crowded and may be harder to take care of. Choose fun vases in Naval stripes or patterns for a pop of color or keep it simple with white or neutral.
When it comes to bringing in greenery and Earth elements to a space, Leanne says, "Play with wood and natural elements in your bedroom, like fresh flowers."
4. Create a lived-in feel with bedding. The key to cozy bedding in a rustic farmhouse space is layers. For a luxurious, Pinterest-worthy bed, layer solids and patterns (hint: Naval looks great in bedding!). Add a few throw pillows and toss a comfy blanket over the end of the bed for a rustic farmhouse bed you'll never want to leave.
5. Include a western element. Whether you choose something big like a cowhide pattern rug, a rustic painting of a buffalo, like the one pictured or something smaller like a cactus or skull for your shelf, western elements enhance a rustic farmhouse space.
Modern Bedroom Style
Modern bedrooms feature sleek, minimal designs and accents for a clean, relaxing feel. The simplicity of a modern space helps promote tranquility and peace, which makes it a natural style choice for the bedroom.
Like rustic farmhouse, a modern bedroom color palette can feature a wide variety of colors, from warm and bright to cool and neutral (or a mixture of both).  
Modern + Naval
Since the color Naval promotes a sense of tranquility, it's a natural choice for decorating your modern bedroom space.
1. Find the right lighting. In a modern space, you want lighting that gets the job done and looks sleek and elegant, too. That can be something as simple as a pendant light or something bigger that's more of a bedroom focal point. You have a wide variety of lighting choices, colors and finishes, so choose light fixtures that compliment the other elements you've chosen for your bedroom.
2. Add throw pillows. In a modern, minimalistic bedroom, you don't want to cover the bed with pillows. However, choosing a few pillows helps cozy-up the bed and complete your modern sanctuary. Go with neutral patterns that match your quilt or duvet or switch it up and choose bold pillows as focal points for the room. Naval bedding accents make the room feel luxurious and modern.
3. Get an area rug. Just like with any room, an area rug can be a focal point or a neutral accent, it just depends on your personal style. Choose a pattern with rich colors like Naval or something more clean and neutral to cozy up your modern space.
And of course, adding a few plants to any space will always make it feel more cozy. Check out the plants we love to keep in the bedroom (and the other rooms in the house, too).>>
The simple addition of Naval in your bedroom can make your space feel more cozy and relaxing. Of course, it helps to start with the basics: the right mattress and bedroom accessories. Let Leesa help you create a bedroom sanctuary for better rest.