When we founded Leesa, we wanted to start a company for good, one that cares just as much about its impact on the world as it does about its bottom line. So, in everything we do, we strive to be makers of good because everyone needs better sleep and more good mornings.
From the beginning, we made a promise to donate one mattress for every 10 we sold. We work with 1,000+ non-profit giving partners across North America and Europe to place brand new custom mattresses in the homes of children to give them a safe place to rest. We are proud to have kept that commitment and helped more than 35,000 people get better rest every night.
Read our 2018 Social Impact Report, here.>>
Purchase with purpose. Leave your legacy.
With the Leesa Legend mattress, we wanted to take our promise even further. That's why, for every Leesa Legend sold, we will donate a mattress to provide a safe place to sleep for a child in need. That's right—one mattress for every Legend sold. One for one.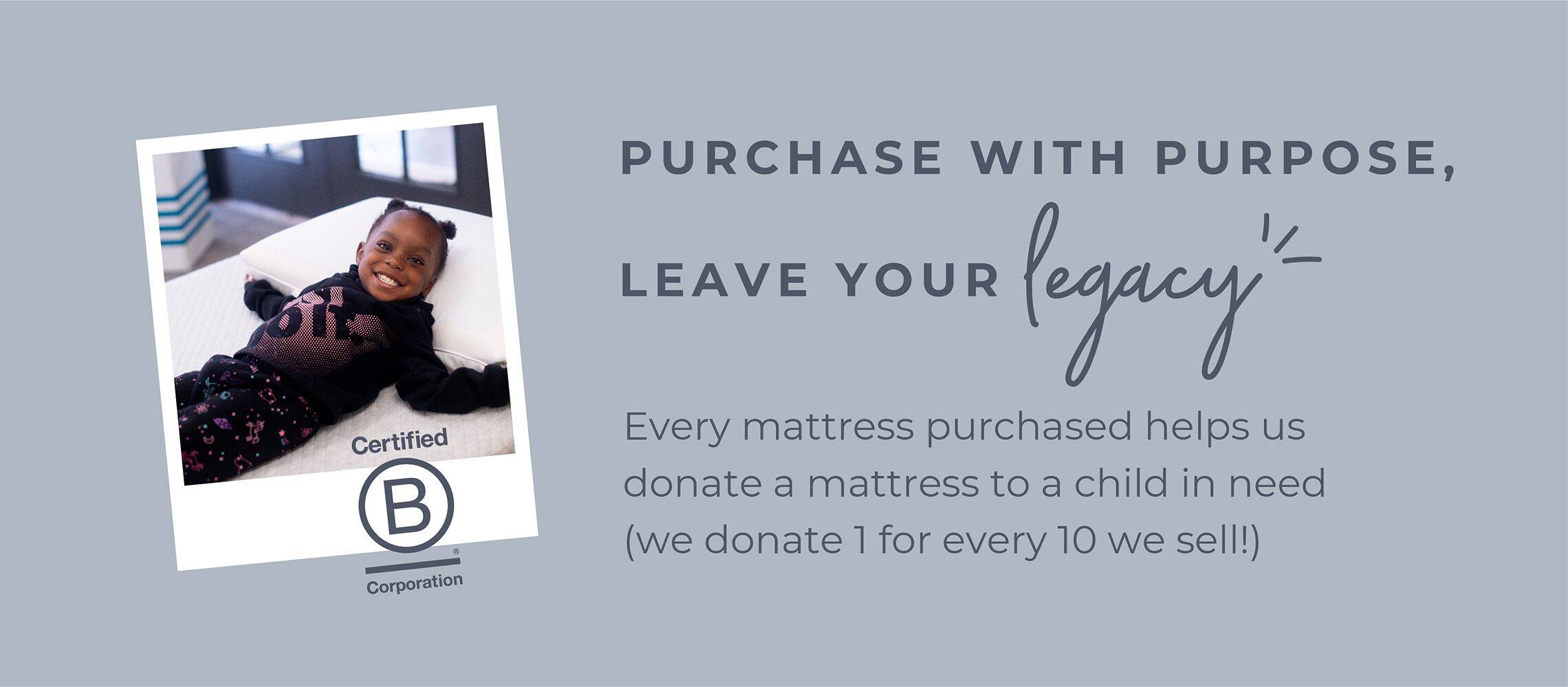 The Next Generation of Sustainable Mattresses
When it came to the Legend, of course it was important to us to create a great mattress, but it was also our priority to make a product that is more sustainable, too.
The Leesa Legend cover
The Leesa Legend cover takes sustainability to the next level, made with natural materials for a soft, beautiful cover that's good for the planet, too. It features the iconic, four-stripe design seen on the Leesa and Leesa Hybrid mattresses, and is made from:
85% organic cotton,
12% merino wool (a natural wicking material to keep you cool when it's hot and warm when it's cold), and
Recycled polyester yarn (made from up to 73 recycled water bottles).
The combination of natural materials, specifically the merino wool, makes the Leesa Legend cover hypoallergenic, resistant to bacteria, mold and mildew and naturally flame retardant. Plus, merino wool is 100% biodegradable.
Read more about the natural, sustainable Leesa Legend mattress cover.>>
Recycled pocket springs
Just like the pocket springs in the Leesa Hybrid mattress, the dual hybrid pocket spring system (that's two layers of pocket springs for our most advanced support!) in the Leesa Legend are made from 95% recycled components, including recycled steel.
Take a deep dive into what the Leesa Legend is made of, here.>>