Mom does it all—when you were little, she tucked you in at night and read you a bedtime story and now she always answers your call and cooks your favorite meal when you visit. From sleepless nights when you were young to long nights spent talking now, Mom deserves a rest.
We're sharing 7 ways you can give Mom a rest this Mother's Day, from simply giving her quiet time to take a nap to planning a relaxing day for you to spend together.
1. Let her catch some Zzz's
The most obvious way to let Mom get some rest is to do just that—let her take a nap or sleep in. Sleep is essential, just like water, food and shelter and with how hard the Moms in your life work and everything they do, they could definitely benefit from a few extra Zzz's.
Coordinate with your siblings (and most importantly—your dad, who's probably at home bothering her the most these days!) to give mom an hour or two of silence. Or, if you're a parent, especially to young kids, the gift of a nap may be the best gift you can give your significant other. Offer to get the kids up and ready while she sleeps in or take the kids out for a few hours so mom can have some time to herself and take a catnap.  
Because we know that sometimes even a closed door won't stop tiny humans from barging in, we made Mom this do-not-disturb, hotel-style, mom-is-resting door hanger. Pick your favorite design, right click and save the door hanger image you like best, print and cut it out for Mom to give her a little peace and quiet so she can rest.




2. Bring her breakfast in bed
What's more relaxing than breakfast in bed? You don't have to prepare a fancy meal to show Mom how much you care. Whip up some pancakes, fruit salad and maybe a little bacon and serve Mom a delicious breakfast in bed. Dad, get the kids to help you cook for an added bonus!
Of course, many of us don't live with our moms anymore, which makes breakfast in bed a little hard. How about breakfast in bed, 2019-style? Try a meal delivery service (there are a bunch!). Order Mom's favorite brunch from a local restaurant and have it delivered to her front door. She'll be in for a nice surprise and can kick back, relax and enjoy breakfast on her special day.
To add a little color to Mom's breakfast plate, try making her our favorite smoothie. Here's the recipe:
Ingredients
1 banana, sliced
1 cup mixed berries (frozen)
1 cup almond milk (can use any milk or apple juice instead)
½ cup plain or vanilla yogurt
For an added "yum," add a tablespoon of honey and/or a little peanut butter.
Directions
Add all ingredients to blender and blend until smooth.
Pour into glass and garnish with fresh strawberries.
Watch Mom sip and enjoy!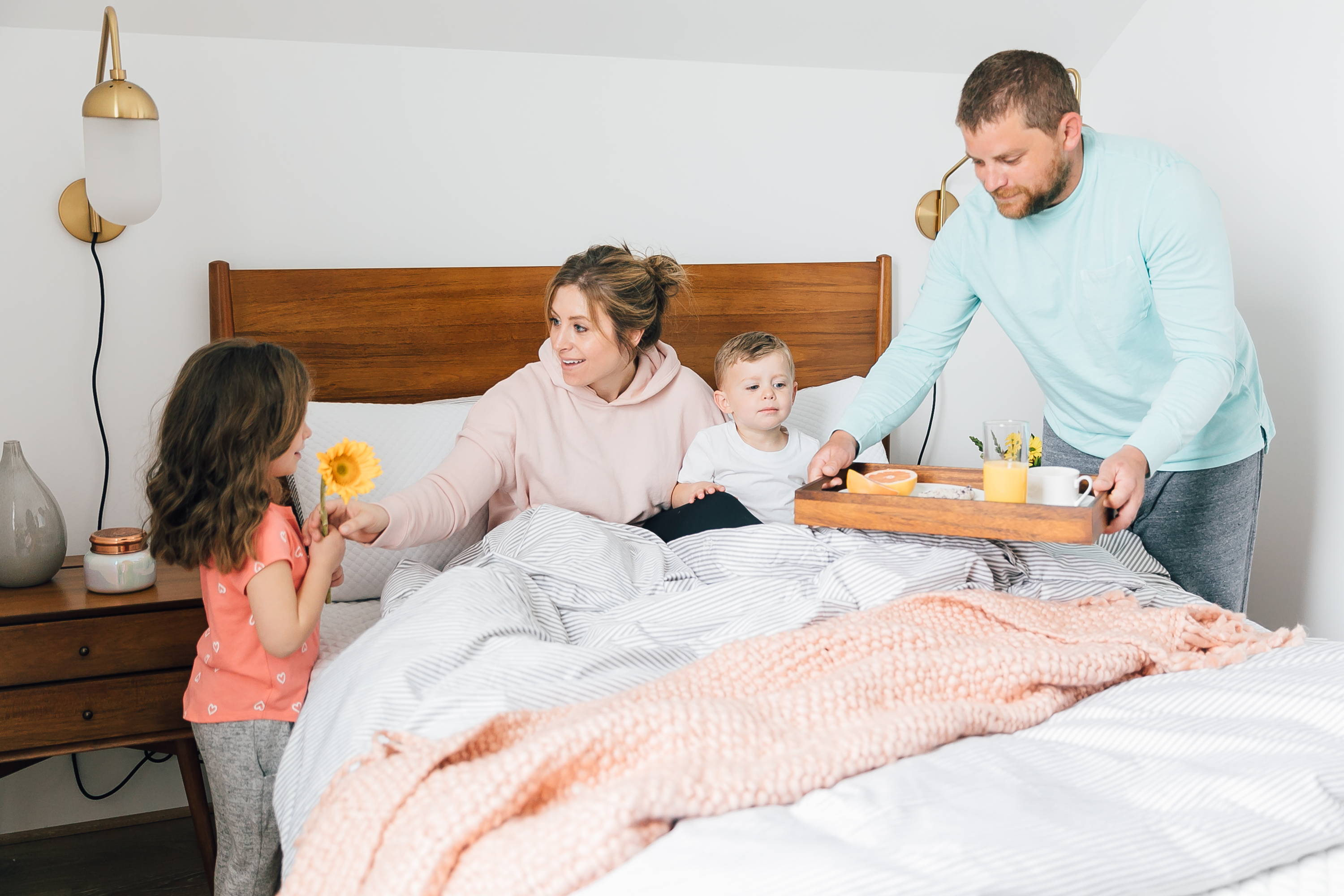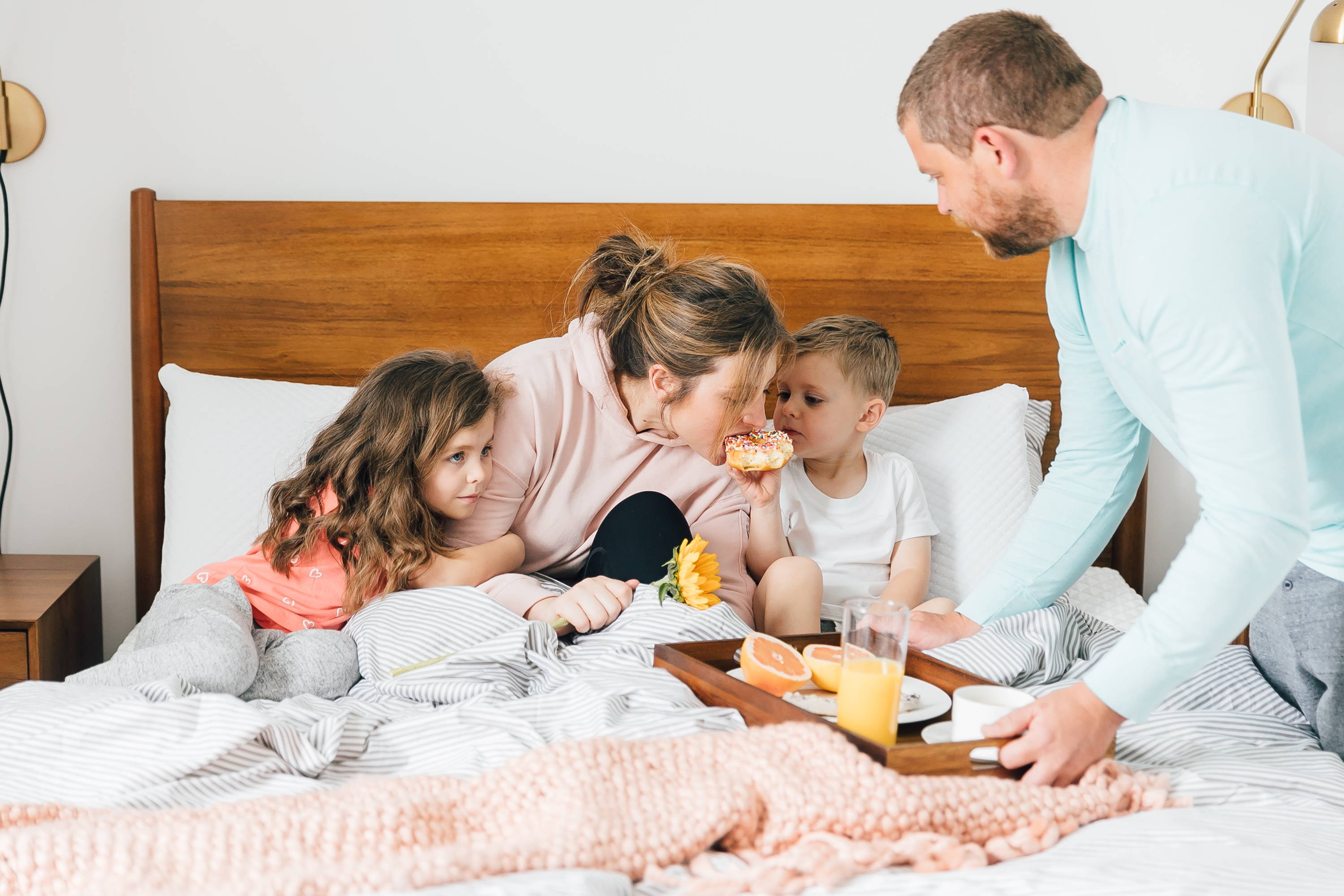 3. Plan a trip or activity
What Mom probably really wants is to spend time with you. Choose an activity you'll both enjoy for a relaxing day together.
Go to a movie you've both been wanting to see.
Plan a weekend getaway. (Maybe go to the beach!)
Explore a city you've never been to, just make sure you build in time to kick up your feet and relax.
Go to a restaurant you've always wanted to try for a delicious meal.
Plan a picnic lunch or dinner and head to your local park.
4. Cook her a meal at home
Think of all the times Mom cooked you dinner, whether it was chicken nuggets and mac-n-cheese as a kid or your favorite home-cooked lasagna last time you visited. Treat her to a great homemade meal for Mother's Day. Get all your ingredients and head to Mom's house. She can relax (and maybe sip a glass of her favorite wine) while you whip up a masterpiece. Even if you're not a great chef, the gesture of cooking her a meal is a great gift and excellent way to spend time with her.
And don't leave her a mess to clean up, either. From start to finish, prep to clean-up, you're in control. Load (and run!) the dishwasher and wipe down the counters when you're done so there's no mess or stress left for your mom.
If you have young kids, a family-cooked meal for your significant other is a great way to teach your kids a little about cooking, spend time with them and surprise mom. Choose something that the kids can be hands-on with—they'll be proud to serve Mom their food and having the kids help makes it extra special for the guest of honor.
5. Treat Mom to a spa day
Everyone likes to be pampered. Whether it's a gift card to her favorite nail salon or an hour at the local massage studio, Mom will appreciate this thoughtful gift. This can be a little expensive, but it doesn't have to break the bank. Check sites like Groupon for deals.
You can also set up an at-home spa day for mom. With some basic supplies, a few essential oils and some relaxing music, you can treat mom to a little relaxation without ever leaving the house. Plus, this way, she gets to spend time with you. Invite your aunts, sisters and grandmothers and granddaughters and create your own salon for the ultimate girl's day.
6. Give her a new book, audio book or mix tape
Does your mom love to read? What about audio books? Do a little research and find a book mom could cuddle up and relax with. A book by her favorite author or in her favorite genre shows Mom you thought about her when choosing her gift. Maybe she prefers audio books. Choose one you think she'd enjoy or give her a gift card so she can choose her own.
What kind of music does she like? Make mom a mixed tape (or mixed playlist, these days) of songs she loves or songs that make you think of her. What was that song she always played you at bedtime? And don't forget to add the one you two made up a choreographed dance to when you were in middle school! Mom will appreciate the time you took to make her a personalized playlist and it's something she can relax to alone or jam out to with you.

7. Give her the tools for better rest
Flowers are great, but the enjoyment you get out of them is short-lived. While it's not your typical Mother's Day gift, why not give mom her new favorite mattress or pillow? After all, to get her best rest all the time (not just during designated Mother's Day, mom naps), Mom needs the right tools.
How's her mattress? Is it super old? Is it lumpy, squeaky, creaky or stinky? All of the above? Upgrade Mom's sleep (and quickly become her favorite) with sleep products for better, deeper rest. Don't know where to start? We've got your Mom's back.
Award-winning mattresses for an award-winning mom
Our classic, all-foam Leesa mattress is made with three premium foam layers, with a cooling top layer for comfort and supportive memory foam middle layer. Customers love it—it's the only mattress with 13,000+ verified 5-star reviews—and so will Mom.
Give Mom the Leesa Hybrid mattress, with all the benefits of foam and added support of 1,000 individually-wrapped pocket springs. With a cooling top layer, supportive memory foam and pocket springs, the Leesa Hybrid offers mom an enhanced, luxury sleep experience.
Shop our exclusive offer for Mom now. >>
A support system for your support system: give Mom the right bed base
Our foundation + metal bed frame offers the perfect amount of support for Mom's new mattress, made with gray twill fabric to complement her bedroom style.
The Leesa platform bed will be Mom's new favorite piece of furniture, offering her mattress stylish support with gray fabric and beautiful wood legs.
For the ultimate spa-like experience for Mom, go with our adjustable base. She can customize her bed at the push of a button to relax, lounge and rest.
We also offer three awesome pillows, the Leesa memory foam pillow, the classic Leesa pillow, the Leesa hybrid pillow. Any of the 3 makes a great gift for Mom and help her get the rest she deserves.
This Mother's Day (and really, every day), show Mom how much you care, whether that's giving her the perfect gift, making a gesture that shows you care or spending time with her. Let Leesa help you give Mom the rest she deserves.